UNBUCKLE & DETERMINE SIDE
Lick Sleeve is reversible! Left and Right icons are printed on each side. The correct side should be on the facing out.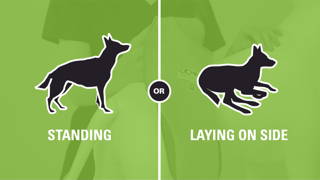 If laying on the side, make sure the operated leg to be covered is on top.
Roll your Lick Sleeve up, over the paw, and up to the ankle. Stretch the elastic material until the foot is fully out of the sleeve.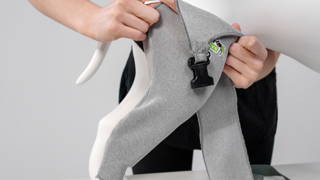 PULL UP & UNDER THE BELLY
The logo should be facing outside of the dog's leg with the long strap wrapping underneath the dog's belly.
Don't forget to go under the dog's belly before taking it over the back. Hold the short buckle up while wrapping the long strap around the belly twice, making sure the fabric doesn't gather.
CLICK BUCKLES & ADJUST STRAP
Connect the buckles securely and pull the strap to adjust for a snug, but not a tight fit.
Your dog is now ready to recover faster with Lick Sleeve.